Mission:
The California Tumor Tissue Registry is a non-profit organization dedicated to the enhancement of patient care via promotion of medical education, research and diagnostic consultation. It totally supports the Mission of Loma Linda University, endeavoring in its own way 'To Make Man Whole".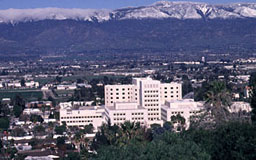 Scope:
The Registry is permanently located on the campus of Loma Linda University in the School of Medicine's Alumni Hall for the Basic Sciences. Although the Registry's influence continues to be mostly in California and in the West Coast, it does provide educational materials to more than 48 states, 30 countries, and 30 pathology teaching programs (2006 data).
Goals:
(a) Education and betterment of patient care. By providing its subscribers with slides of rare and unusual tumors, the Registry broadens the experience of local and distant pathology communities. The study sets serve as points of study and discussion resulting in more uniform diagnostic rendering and more uniform patient care.
(b) Provide quality consultation. The pathology staff of Loma Linda University Medical Center serve as consultants to the Registry, providing multiple areas of expertise.
(c) Research. As a repository of rare tumors (over 30,000 accessions and 30,000 consultations) the Registry serves as an invaluable resource for serious cancer research.
View Larger Map
######
History:
The concept which ultimately became the California Tumor Tissue Registry (CTTR) began in 1929, at a time when only seven pathologists practiced in the state of California. To improve their skills, they took turns preparing interesting cases which were distributed and discussed at a general meeting. As more pathologists came to California, it became apparent that there was a wide variation in their diagnoses.
To address the problem, in 1947 Dr. E. M. Butt, Chief Pathologist of the Los Angeles General Hospital, arranged for a $25,100 grant from the Cancer Commission of the California Medical Association, establishing a museum, a tumor board and a cancer registry. A nucleus of pathologists, including Drs. E.M. Hall, Hugh Edmonson, Alvin Foord, John Budd and Louisa Keasbey served as original committee members and were shortly joined by Drs. Orlan Pratt, Carroll Small, Albert Brown, Gordon Hadley, Nathan Friedman, Russell Fisher, George Maner, George Hummer, Weldon Bullock and Freemont Davis. Dr. Butt was appointed Curator of the museum and served in that capacity for 3 years. Later that year, the Cancer Commission authorized the Museum to produce and distribute slides to be shown at the semi-annual Tumor Seminars, and to have a repository for those slides. A grant of $31,800 from the State Division of the American Cancer Society helped in its establishment. In 1950 Dr. Fremont Davis was appointed as Curator and served in that capacity until Dr. Gordon Hadley was appointed in 1952.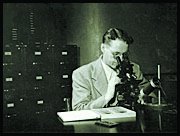 In 1955, the name was changed from Museum to Tumor Tissue Registry of the California Medical Association, and Dr. Weldon Bullock (pictured at right) was appointed as Registrar. Between 1956 and 1957, the subcommittee to the Cancer Commission was abolished, and the Registry next functioned under the Professional Education Committee of the American Cancer Society, California Division When supportive funds dwindled in 1956, the Registry began charging for its study sets. The initial fees were $60.00 for the monthly slide subscription and $25.00 for each semi-annual seminar. In October, 1956, the American Cancer Society awarded its highest award to Dr. E. M. Butt, the Registry's founder.
In 1963, the organization officially was named the "California Tumor Tissue Registry" and Dr. Weldon Bullock became its first Executive Director. The American Cancer Society, California Division, and the California Medical Association were its sponsors. From 1969 to 1974 the California Medical Association granted the Registry $25,000 per year, but when external funding dried up, subsequent operations, up to the present day, have been provided by subscribing member pathologists and by donations.
Originally based at LAC-USC Medical Center in Los Angeles, the Registry relocated to Huntington Memorial Medical Center in Pasadena in 1988, and finally to Loma Linda University School of Medicine 1992. Through these transitions, Dr. Bullock continued in his capacity of Executive Director and from June 1995 (until he passed away in March 2006) served as Director Emeritus, when Dr. Donald Chase became the Registry's second executive director.